This is a bit of a different post than usual, but honestly I love putting together these types of things so I might be doing more of these if they're helpful for any of you people out there! I'm not much of a Valentine's day person at all, not a huge fan of getting flowers or chocolate or anything like that! I fully believe that instead of going all out on ONE day out of the year with a super romantic gesture, it's much better to show your appreciation of the significant people you have in your life day in and day out throughout the year! That's just me though 🙂
That being said, if you're looking to get someone in your life a little something special that shows that you really care about them, here's a couple of really fun ideas! I hope that they give you some inspiration or are THE perfect gift for someone you know! All the links & how I use each product is below!
Links 1 / 2 / 3 / 4 / 5 / 6 / 7 / 8 / 9 / 10 / 11 / 12 / 13 / 14
Image Credits: 1 | 2 | 3 | 4 | 5 | 6 | 7 | 8 | 9 | 10 | 11 | 12 | 13 | 14
1. ALISON BUTTERSCOTCH JO TOTES
I switched to my Alison Butterscotch Jo Totes bag this year which I LOVE! I travel with it all the time and am glad that it looks like a normal purse and not something that's carrying super expensive equipment! The NUMBER ONE thing that's come in handy about it is that all the compartments are zippered and it's water proof. I had BUCKETS of water fall on it during a wedding and was MORTIFIED but all my lenses inside stayed super dry! It's big enough to easily fit a camera body with a lens as well as two additional lenses, plenty of spare batteries & cards as well as even a couple of styling kit essentials, scissors, your phone, a timeline for the wedding day, your wallet, etc! For such a small seeming bag it really packs in a LOT at one time!
These are currently ALL the rage and definitely also an investment to make but I love wearing these while spending long hours working on my computer screen! I tried out a slightly cheaper pair on Amazon first but one they were WAY too big for my face and were turning my screen slightly yellow. So I decided to go for a pair of Pixel glasses (I got the ones called Capra ) and love that they don't have a huge color cast so I can use them while editing photos as well without messing up the colors! If I'm going to be VERY picky there's a very slight tint of yellow but not enough for it to make a major difference in editing. I'm also SUPER sensitive to color shifts as a photographer so if you're using these for normal activities, you'll be fine!
I have a very similar one to the one linked! This suitcase has literally travelled with me EVERYWHERE and I practically have lived out of my suitcase for months this past year! This thing handles rolls, bumps and although is slightly on the larger side (and has a zipper to expand for width if you need it), but still fits snuggly into an overhead compartment on a domestic flight! Here's a slightly smaller international carry on one! PRO TIP: I'm going to try packing Marie Kondo style in order to preserve space and make it easier to dig out exactly which outfit I'm going for and make it easier to live out of the suitcase!
4. VANILLA PUMPKIN BODY BUTTER FROM THE BODY SHOP
Got this bad boy on sale during the fall season for $10!! At first, I was wondering if I really needed it but I'm SO GLAD I picked up this tub on a whim when i saw it on sale! If you're anything like me, your skin really dries out during the winter and this is my saving grace when it does! It's packed with a ton of shea butter, is thick enough to feel moisturizing but also melts into your skin!
5. MARVY LE PENS

Jontell gave me the journal as a gift and I love it since it's helping me with my goal of documenting each day! Also, after being a Sharpie felt pen fanatic for the longest time, I finally decided to try out a different kind of pen because I would go through the Sharpies entirely too quickly and they were EXPENSIVE. I can't remember exactly where I heard about Le Pens but I absolutely LOVE them!! The Marvy ones are super thin, last a really long time and a 12 pack was about $14 dollars! So if you're a pen over pencil kind of person, I totally recommend these!
6. GREETABL!
Totally cute & customizable to send to a friend! I sent some of the Champagne Gummy Bears from Sugarfina to clients with a note and everyone LOVED them! I have a pack that I keep on my desk as well to munch on whenever I need a quick little boost of sugar on a slow day 🙂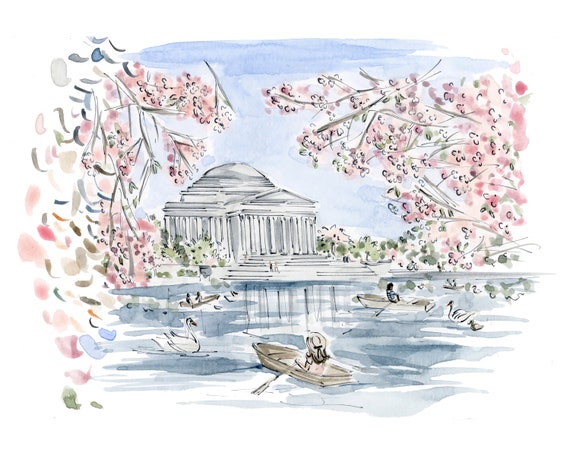 7. MAKE THINGS CO DC CHERRY BLOSSOM PRINT

I love following Riley and her work on Instagram and it's such a fun inspiration to me! I actually have the print above pictured hanging right above my desk and think it's perfect for any of your DC livin' friends!
Again, winter wreaks HAVOC on my skin including my lips so I have to be careful which lipsticks I use in order not to become a flaky mess! I totally have Hannah of Hannah Marie Events to credit for these! They go on like butter, stay pretty well throughout the day and I got the two shades Nude and Posh which I love and are perfect for Valentine's Day colors! They're an international company but definitely worth the wait for them!

Nav got me one with a pineapple charm after I lost my anchor charm one (I felt terrible) and I wear it EVERY DAY!! Also, I love that it's water resistant and doesn't tarnish if you happen to get some water on it! I have the silver one and it goes with just about anything 🙂
I'm trying to be more conscious of my water intake this year since I'm generally a more coffee in my veins that water kind of person. BUT I'm trying to fix that!! I totally wish that I'd brought one with me to India! These keep your water super warm or ice cold for SO MANY HOURS at a time! For any wedding photographers, this feels like a freaking miracle on those super hot and sweaty summer wedding days!!
11. AE JEANS / AE FLEECE LEGGINGS
You know I either live in leggings or jeggings and almost all of my jeans are exclusively from AE. They are seriously the most comfortable jeans I've come across and fit me really well despite my height hahaha. Their logo is something like "Live in Jeans" and their jeans definitely make that easy to do! I always take a couple of pairs when traveling since they're durable and you can get away with wearing them twice before having to wash them! I also found a pair of their fleece leggings on sale at the Leesburg outlets and LIVE IN THESE!!! They're so soft, warm and cozy and have POCKETS on the sides!!
12.  SUMMER FRIDAYS JET LAG MASK
Again, I am BIG on moisturizing up in these cold, dry winter months and either this or the Ahava Moisture Mask on a daily basis! They're a little on the pricey side but definitely worth it when a little goes a long way! Although they're both masks that can be washed off, I actually use these as moisturizers since my skin always needs an extra boost of hydration to last me throughout a winter day! Both of them go on feeling SLIGHTLY thick (enough for me to feel like they're actually moisturizing my face) but are not greasy at all and last throughout the day underneath make up! Couldn't live without these two! Heads up that the Summer Fridays one is only online at Sephora, not in stores.
13. 128 GB USB STICK
This is kinda techy/nerdy but also is something that I couldn't really function without and use almost daily! My laptop is 128 GB half of which was already taken up by system services. And when you process really large RAW files for photography, you find that your remaining space gets eaten up no matter HOW conscious you are!! My dad got this as my birthday gift and it's stayed in a USB port on my computer ever since! I keep my favorite recent images on here (as a third copy for easy access without having to lug around hard drives) as well as a copy of my Business & Personal laptop folders!
Last, but quite possibly my most effective business tool, is my Day Designer Planner! I have the Antigua one but I also love the White Marble print! I'm a self proclaimed organizational nut and totally wish that I'd had this daily planner during high school and college! It's definitely an investment for the year but it's so worth it!! I love that I can simultaneously see my schedule for the day hour by hour, my top 3 tasks for the day, my meals planned, any bills due/purchases, birthdays, notes for the day, AND my to-do list ALL ON ONE PAGE without being overwhelming!! That plus there's an inspiring little quote at the top haha 🙂 I started out writing pro tips for using my planner and it got so long that I decided I'll have to make a separate post for these in the future but until then, here's one! PRO TIP #1: SCHEDULE out your tasks on the right onto specific time slots to get them done on the left for maximum productivity! This stops you from getting distracted while you're working on your big 3 tasks for the day!
Ok this was super fun for me to write and make! In another life, I'd be a lifestyle blogger but I'm definitely not cool enough for that so I'll stick to photography for now! I hope you find a new favorite for yourself or for a friend within these!!
If you enjoyed this post, you should binge read these as well!